Sole solution
foot cream for feet with hard skin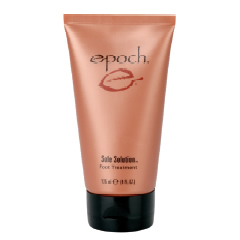 Epoch Sole Solution Foot Cream
Epoch Sole Solution Foot Treatment is a rejuvenating foot cream for those suffering from rough, dry or cracked feet.
If you have chronically dry, cracked heels and have tried all kinds of moisturisers, instead of getting better, the problem often persists or even gets worse.
A persistent problem like this requires more than moisturising. You need a product that works on the underlying cause.
Epoch Sole Solution Foot Treatment brings the hidden solution of the rainforest to you.
Epoch Sole Solution Foot Treatment features crushed allspice berry (Pimenta dioica).
Traditionally used by the indigenous people of Central America to relieve persistent dry, cracked, red skin on heels, toes and sides of feet.
So much more than a moisturiser, Epoch Sole Solution restores healthy looking heels, toes and soles.
Benefits
Works on the underlying cause of rough, dry, and cracked feet, returning them to a soft, smooth, healthy looking condition.
Delivers noticeable relief in the first few weeks of use.
Softens and exfoliates dead cell buildup and calluses for soft, smooth skin.
No added fragrance; naturally fragranced with allspice berry.
Safety-allergy-dermatologist tested.
Usage
Apply liberally to affected areas on cleansed feet morning and night, or as needed.
Focus on rough or dry areas. Do not rinse off.
Allow product to remain on skin as long as possible.
Best results are seen after six to eight weeks of usage as directed.
Ingredients
Crushed allspice berry (Pimenta dioica)—used by indigenous people in the rainforests of Central America to relieve persistent dry, cracked, red skin on heels, toes, and sides of feet.
Urea—exfoliates calluses and dead cell buildup while providing deep moisturization.
Papain—a proteolytic enzyme from papaya breaks down and loosens thick, rough patches of dry, dead skin.

To order please Click here
---
Other related pages that you may find interesting
---
Firewalker
foot cream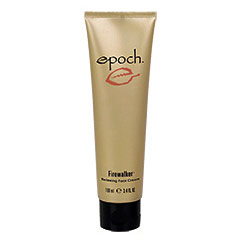 Smooth in Comfort.
Do your feet ever feel like they are on fire after a long, hard day?
Soothe and relax them using this foot cream with natural ingredients like Hawaiian ti plant extract (Cordyline terminalis), traditionally used by Polynesian firewalkers to absorb heat and to cool and soothe the skin.
Firewalker™ also contains babassu oil (Orbignya phalerata) for the perfect amount of moisturization, leaving your feet feeling silky-soft.
Benefits
Moisturizes dry, calloused skin. Specifically designed to soften feet.
Soothes tired, achy feet.
$0.25 from each Firewalker Moisturizing Foot Cream sold goes toward the Force for Good campaign which assists various cultures and projects around the world.
Safety-Allergy-Dermatologist-Tested.
Usage Wash feet and towel dry. Apply Epoch Firewalker Foot Cream directly to feet in a smooth massaging motion.
Ingredients
Water, Cyclomethicone, Cetearyl Alcohol, Butylene Glycol, Saccharide Isomerate, Hawaiian Ti (Cordyline Terminalis) Extract, Babassu (Orbignya Phalerata) Oil, PEG-100 Stearate, Glyceryl Stearate, Ceteareth-20, Algae Extract, Ascorbyl Palmitate, Tocopherol, Tocopheryl Acetate, Dimethicone, Phenyl Trimethicone, Xanthan Gum, Menthyl Lactate, Propylene Glycol, Tetrasodium EDTA, Hydrogenated Lecithin, Fragrance, Diazolidinyl Urea, Phenoxyethanol, Methylparaben, Ethylparaben, Propylparaben, Butylparaben

To order please click here
---
Icedancer leg gel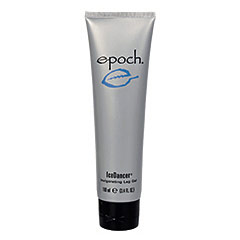 A Native American secret to leg relief.
Whether you're working or playing, time spent on your feet can leave your legs feeling exhausted.
Rub in instant relief with this soothing alcohol-free gel.
Formulated with natural wild mint-- (Mentha arvensis)-- used by Native American tribes for soothing aches and pains--and a combination of horse chestnut, eucalyptus, and peppermint oil to stimulate tired legs. This clear, cooling formula quickly melts into your skin, leaving legs refreshed and revived.
Benefits
Cools and soothes tired, achy legs.
Contains the natural wild mint Mentha arvensis, used by indigenous peoples to help soothe aches and pains.
Contains horse chestnut to help stimulate tired legs.
It is a non-sticky gel that can be applied over nylons.
Alcohol-free
Usage, Generously massage over lower legs, calves, and behind the knees anytime as needed.
Avoid contact with eyes. If rash or irritation occurs discontinue use.
Ingredients
Water (Aqua), PPG-5-Ceteth-20, Glycereth-26, Dimethicone Copolyol, Mentha Piperita (Peppermint) Oil, Mentha Arvensis (Wild Mint) Extract, Aesculus Hippocastanum (Horse Chestnut) Extract, Eucalyptus Globulus Extract, Aloe Barbadensis, Menthol, Sodium Hydroxide, Carbomer, Disodium EDTA, Triethanolamine, Phenoxyethanol, Butylene Glycol, Methylparaben

To order please Click here


Have you any foot cream sugestions, recommendations or experiences you would like to pass on?
We would love to hear your comments or stories. Every little piece of information you care to share will help others make the right choice.
---
---
Jump from foot cream to Toenail Care Home page