Childrens Feet, Toes and Toenails.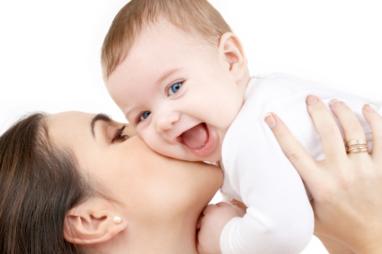 As parents the care of our childrens feet is very important to us.
A lovely photo of a proud mum with her beautiful baby, we always want the very best for our children from head to toe so here we are going to look at the best care of our childrens feet, toes and toenails.
The way we can ensure that they grow in the best health and grow correctly and unrestrained.
This page is about how we can avoid possible problems, identify possible problems and how to treat them or, if unsure, when to seek the advice from a local Chiropodist, Podiatrist or Doctor.
Baby Feet
When a child is born it has 22 small bones in the foot, these bones are still forming and should be allowed to grow and form the foot unrestricted.
The other bones develop during the child's growth period of around 18 years.
However, during the first few years it is particularly important to pay attention to your childrens feet, toes and toenails.
The shaping of the foot should be left to develop unhindered which means loose fitting baby booties, socks and slippers and even the jumper suits or 'baby grows' as some call them.
These should always be loose fitting around the feet and toes. Even while your baby is at rest loose fitting bedding or bed clothing around the toes is important.
There should be no side pressure on a baby's feet at any time.
The delicate feet can easily be malformed by footwear that places pressure on the sides of the feet forcing the toes inwards.
A few hours, daily, of this side pressure on a child's foot can lead to problems in later life.
In ancient times some eastern cultures regarded tiny ladies feet as something desirable so the baby girls had their feet bound with bandages to restrict the growth.
This led to the childrens feet being really badly deformed.
They were so small and deformed that it was painful for the adult to even walk. A cruelty which was inflicted on their female children all in the name of fashion.
Nowadays i think we all know better.
Children's footwear should not be a symbol of fashion alone, but of good quality good fitting shoes and sandals.
Some footwear fashion designers have now incorporated this into their shoe development programs and are producing quality shoes in the right shape and
shoe size to fit most all childrens feet.
Thankfully they are now producing beautiful, good quality footwear, for children of all ages.
For Childrens feet wool and leather are the preferred natural fibers for footwear.
The general rule is find a shoe that has 'support around the heel and ankle with good space around the toes and the rest of the foot'.
'Barefoot whenever possible and quality footware when footware is required'
While the feet grow and the child starts walking they should then be gradually given the correct support under the foot in the form of loose fitting (around the toes) baby shoes.
It is at this time of the child's growth that the bridge of the foot starts developing.
Sometimes a little support now, if it is needed, can mean the difference between being flat-footed and having a correctly formed instep.
This is where the advice of a good Chiropodist, Podiatrist or your Doctor will be invaluable
Good children's shoes are anything but cheap and they grow out of shoes so quickly, but, it is necessary to keep them in good quality footwear, another accepted part of the cost of parenting.
........Childrens feet can be susceptible to some infections........

For the prevention of a fungal attack the feet are best kept dry, especially between, under and around the toes and well 'aired'.

For prevention against viral attack the soles of the feet are best protected in communal 'wet' areas, IE swimming pools, locker rooms etc.
Some foot Infections
Verruca's can be difficult for the child and can sometimes lead to becoming a little painful too.
With the skin on children's feet being thin and delicate it can be an easy infection to 'pick up'.
Verruca's are contagious so this virus can be acquired from public wet room areas.
If it is not dealt with properly it can develop into a painful infection.
Please refer to Verruca treatment. Just purely for protection of your childrens feet, or while your child is in these areas it is advisable that they should wear some protection for the sole of the foot.
Something like non slip shower shoes would be a wise choice.
Athletes foot is not a common complaint for childrens feet however it can appear between, under or around the toes.
This is a fungus or a fungal infection and is not contagious and can be easily dealt with, please refer to Athletes foot treatment for more detailed advice.
Always, always, gently dry a child's foot around the toes and the use of a mildly antiseptic foot cream or powder is also advisable.
Between the toes the foot, young or old, should always be kept dry.
Baby Toenails
Babys toenails are naturally very thin and pliable and should be treated, and cut, (when necessary) with great care.
Check out our page on baby toenails It is easy to tear a child's nail so clip, or cut the nail cleanly using a proper children's nail cutting instrument.
Use proper childrens toenail clippers or childrens toenail scissors.
They are different to adults nail cutting instruments.
The tiny little toenails should be trimmed correctly, always straight across and never cut down the sides of the nail.
The edges of the nail should be very slightly rounded over so as not to cause the toenail to 'click' or 'snag' onto a piece of clothing whilst it is being put onto the baby.
This is also to ensure that the baby can not accidentally scratch itself, or mum or dad, with its own nails.
Preparing for Bed
A little preparation before bed can help Child sleep better and also have better blood circulation around the feet.
A simple, gentle foot massage for your children's feet can work wonders at bed time.
Move your fingers and thumbs gently, with a little pressure, around the feet, from the children's toes towards the heel (towards the heart).
Use a little baby body oil if you can or a little baby powder if the child's feet sweat a lot.
Five min spent here can relax the child nicely for sleep as well as providing the beneficial circulatory effects of a massage.
The feet are a sensitive part of the body and children can respond to this treatment well by sleeping better and more relaxed.


Back to Top of page

Skip from Childrens feet to Childrens toenails

Jump from Childrens Feet to Toenail Care Home Page